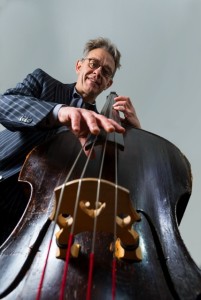 Tómas R. Einarsson, bassist and composer, has released 20 records with his own music; Latin jazz, straight-ahead jazz, Nordic ballads, jazz & poetry and collaborations with singers. His music has been arranged for big bands and choirs and DJ´s have remixed his Latin music. Einarsson has played and toured extensively with his Latin group, performing at festivals and clubs in Iceland and abroad. He was the only European represented in the best-selling CD Putyumayo Presents Latin Jazz in 2007. His CD/DVD Strengur (2011), for bass, percussion, water sounds and video, was selected as one of the best Latin records in 2011 by Descarga.com in New York.
Interview with Tómas R. in Paris 2013.
---
The cd Bongó was released November 1st 2016. A stellar cast of Icelandic singers and jazz musicians interpret 11 tunes Einarsson wrote to poems and texts of different authors. The cd is inspired by Einarsson´s stay in Santiago de Cuba last winter and at the Colombian website SolarLatinClub, Luis Félipe Valero wrote: "Mientras que en Havana se escuchaban números frenéticos y más acelerados que representaban el bullicio y celeridad de la capital cubana, en Bongó Einarsson quita el pie del acelerador para ejecutar cha cha chas y un son más tranquilo y relajado, muy característico de esta ciudad del oriente de Cuba."
---

"I am convinced that this is the best Latin Jazz CD Einarsson has recorded." Vernharður Linnet, Morgunblaðið, December 16, 2013 (Iceland)
Bassanótt (Bass night) was selected as one of the best Latin Jazz records of the year 2013 by the Colombian website SolarLatinClub.com. The title tune, Bassanótt, was included in the CD Salsa en Europa, Vol. 1, released in 2015. "This is top-drawer Latin jazz for an unlikely place, making it all the better."
C. Michael Bailey, All About Jazz, January 6, 2016.