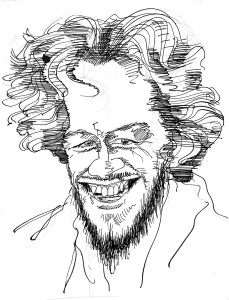 Tómas R. Einarsson was born March 25th, 1953, in Blönduós, Iceland. He bought his first double-bass in 1979, a year before he finished his studies at the University of Iceland (BA degree in History and Spanish). The music took over and he studied with Jón Sigurðsson, 1st bassist in the Icelandic Symphonic Orchestra (1980-83), and Johan Poulsen, 1st bassist Royal Copenhagen Opera (1983-84). He was a student at the FIH Music School of Reykjavik and attended a summer course with the Danish/Congolese reedman John Tchicai in 1984. By then he was already playing with the veterans of Icelandic jazz, as well as accompanying visiting guests (he has played with a.o. Chet Baker, Kenny Drew, Ernie Wilkins, Ted Daniel, John Tchicai, Doug Raney, Bent Jaedig, Richard Boone, Jesper Thilo, Tommy Smith, Mark Levine, Guy Barker and Charles McPherson). His first composition on record appeared on the LP Kvölda tekur in 1982, with Nýja Kompaníið, a group of young jazz musicians that played original music. He wrote most of the compositions on the LP Þessi ófétis jazz (1985), and has since been active as a composer as well as a bassist.
Besides his 20 records as a leader or co-leader, Einarsson has written music to movies and TV films, as well as directing and writing the manuscript of a documentary film on the writer Guðbergur Bergsson, one of the most controversial figures in Icelandic literature in the last four decades. In 2011 Einarsson wrote music to Anti American wins Nobel, a documentary film on the Icelandic writer and Nobel prize winner Halldór Laxness, directed by Halldór Þorgeirsson. He has also been active as a translator; mainly from Spanish (including Latin American authors like Isabel Allende, Gabriel García Márquez, Julio Cortázar and Luis Sepúlveda), but also from English (The Dancer Upstairs by Nicholas Shakespeare).
He is a member of the Reykjavik Jazz Quartet, which was very active in the early nineties; playing jazz festivals in Norway, Denmark, Sweden, Germany, Scotland and England, where the group also played for a week in the Ronnie Scott´s club in London. A selection of the program (including two of Einarsson´s compositions) was released in England 1994 by the club´s label, Jazz House. Einarsson was the bassist in The Ólafur Stephensen Trio, a piano trio that made three CD´s in the nineties and performed in various countries, including Greenland, Canada, the USA, Argentina, Malaysia, Thailand (where the trio played at the famous Oriental hotel in Bangkok) and in Chile, where they played at South-America´s oldest jazz club in Santiago de Chile.
Einarsson´s first Latin jazz record was Kúbanska (2002). It was well received in Iceland and American critics had praise for the music: "It´s a funny thing, all of this Latin Jazz coming from such remote places. But when it´s played that well, who cares?" (C. Michael Bailey: All About Jazz). In 2003 he went to Cuba to record the CD Havana, which had a great success and received two prizes at the Icelandic Music Awards. Einarsson´s third Latin CD was Romm Tomm Tomm, recorded in 2006 in Reykjavik and in Havana´s EGREM studios, with 14 musicians. It was welcomed in Iceland by both critics and record-buyers; the Cuban critic Ricardo Alonso Venereo praised the energy and the supreme skill of the musicians (El Habanero 21/11 2006) and Peter Watrous, a critic of jazz and Latin music in the New York Times, called it "a beautiful, weird hybrid out of the Cuban diaspora." (Descarga.com 6/2 2007). When Putumayo World Music released its first Latin Jazz CD they included Rumdrum from Einarsson´s Havana CD. The Icelandic bassist is the only European representative and the company could not be more exclusive; Tito Puente, Machito, Ray Barretto etc. When the Putumayo company released a 15 years anniversary music sampler in 2008, Einarsson´s Rumdrum was one of the 15 tunes that represented "15 years of the best music from around the world." The Colombian DJ El Chino included Jam from Einarsson´s Romm Tomm Tomm in his first selection of Latin music around the world (Solar Latin Club Vol. 1), released in 2007, and in his second selection (Solar Latin Club Vol. 2), released in 2010, he included Alls óvænt from Einarsson´s Trúnó CD. The title tune of the Bassanótt CD (2014) was included in the CD Salsa en Europa, that was released in 2015. Einarsson has played and toured extensively with his Latin group, performing at festivals and clubs in Iceland, Faroe Islands, Norway, Russia, USA, Germany, Romania and Cuba.
Einarsson´s Latin music (plus tunes from his earlier records) was arranged for big band by Icelandic trombonist/arranger Samúel J. Samúelsson in 2004 and performed by a 14 piece band at the Reykjavik Art Festival the same year. A recording from the two concerts was released, Dance you idiot! It won all the three awards in the jazz category of the Icelandic Music Awards 2004. In 2007 DJ´s from Iceland, France, Germany, USA and England remixed ten tracks from his first three Latin CD´s and the result was Rommtommtechno, produced by President Bongo from the Icelandic band GusGus. The TRÚNÓ CD in 2008 was a result of Einarsson´s collaboration with two of Iceland´s most popular singers, Ragnheiður Gröndal and Mugison. Einarsson released two CD´s in 2009: LIVE! with recordings from concerts in Reykjavik, Moscow and Havana, and Reykjavik-Havana, a 4 CD collection including Kúbanska, Havana, Romm Tomm Tomm and Live! Strengur, a project for double-bass, percussion, water sounds and videos, was premiered at the Reykjavik Arts Festival 2011 and released on CD and DVD the same year. He wrote the music to the documentary Anti-American Wins Nobel, a film on the Icelandic writer Halldór Laxness, who received the Nobel Prize in literature in 1955. The music was released on the CD Laxness, in 2012. In 2013 came his CD Bassanótt (Bass night), with his Icelandic Latin Sextet.
Einarsson received in 2014 The Order of the Falcon – Knight's Cross, for contribution to jazz and culture, granted by the President of Iceland.
Mannabörn (2014) features the singer Sigríður Thorlacius and a choir singing his compositions, arranged by Gunnar Gunnarsson, and Bræðralag (2015) was a duo project with guitarist Ómar Guðjónsson. Latínbóndinn (Latin Viking), a documentary on Tómas R. Einarsson was premiered on the Skjaldborg Film Festival in May 2015. The CD Bongó,  inspired by Einarsson´s stay in Santiago de Cuba, was released in November 2016. It was welcomed by critics in Colombia, Mexico, the USA, Russia, Spain and Iceland, where it was one of the best-selling records that year. Innst inni (Deep inside – Adentros) was released in November 2017, a duo Einarsson did with pianist and keyboardist Eyþór Gunnarsson, best known for his work with the group Mezzoforte. They recorded Einarsson´s jazz ballads, slow waltzes and a blues in July 2017. In his liner notes to Innst inni Einarsson wrote about the recording:
"When you play jazz ballads, the heart is the boss, not the fingers. We played for three days in a state of focused inconsciousness and then it was over. But we had been rehearsing for this date for 36 years."
The major part of Einarsson´s more than 200 compositions is to be found on his own records, that he made with fellow Icelandic musicians, inviting foreign musicians to record with him once in a while; the American trombonist/vocalist Frank Lacy (Journey to Iceland, Landsýn), the French bandoneón player Olivier Manoury (Á góðum degi) and two Danes; the trumpeter Jens Winther (Hinsegin blús, Nýr tónn, Undir 4) and the guitarist Jacob Fischer (Á góðum degi).
His music is nevertheless also to be found on 30 other records, like the singer Mugison´s Haglél (MUG 009), the pianist Gunnar Gunnarsson´s STEF (DIM 7), HÚM (DIM 18) and HRÍM (DIM 37), Icelandic Jazz Favourites (IT 038), the singer Jóhanna V. Þórhallsdóttir´s Flauelsmjúkar hendur (Valgardi 001) and Lágnætti (Valgardi 002), the Latin-group Six-Pack Latino´s Björt mey og mambó (MM 017), and the Faroese bass-player/composer Edward Nyholm Debess´ Debazz (HJF 79). Recording sessions with others include Bubbi/Megas (Bláir draumar), Bubbi Morthens (Í skugga Morthens, Hvíta hliðin á svörtu), Megas (Loftmynd), Ellen Kristjánsdóttir (Læðist um), Björn Thoroddsen (Jazz Guitar), Árni Heiðar Karlsson (Q), Páll Torfi Önundarson (Timbúktú, Jazzskotin), Egill B. Hreinsson (Og steinar tali…) and Anna Pálína/Aðalsteinn Ásberg (Á einu máli).
Besides Icelandic reference-books, Tómas R. Einarsson is included in the following works: Dictionary of Icelandic Composers by Marek Podhajski (Warsaw, Poland 1997), Biographical Encyclopedia of Jazz by Leonard Feather and Ira Gitler (Oxford University Press, New York, USA 1999) and Politikens JazzLeksikon, by Peter H. Larsen and Thorbjörn Sjögren (Copenhagen 2003). In the book Convergencias – encuentros y desencuentros en el jazz latino, by Luc Delannoy (Mexico D.F. , Mexico 2012), the author dedicates a whole chapter to Einarsson's Latin music.
Einarsson contributed with his memories of Chet Baker in Reykjavik in 1985 in Funny Valentine – the story of Chet Baker, by Matthew Ruddick (Melrose Books 2012).